Swing Stars is an entertaining song show,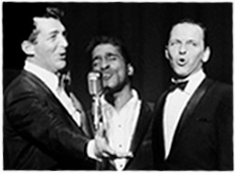 based on famous cabaret motives, which have later on been transformed into tv show called Rat pack. Rat pack has its roots in Las Vegas in 50's. Main star of this show was a heavenly trio formed by big and fancy artists – Frank Sinatra, Sammy Davis Jr. and Dean Martin. Unique interpretation of swing songs with great portion of humor, accompanied by attractive lady dancers were a blast and soon earned lots of success all over United States as well as western Europe. After Frank Sinatra passed away, Rat pack turned immortal. With its great artistic value, it has become the glory of noble events and nowadays its really demanded.
This famous and attractive show named Swing Stars will be interpreted to you today by a trio of well known artists Berco Balogh, Lazaro and Karol Csino accompanied by dancing Shining stars.